Remote teaching & learning will commence for each year group from Monday 11th January. As was the case last March our main platform will be Google Classroom and each teacher will decide on the best way to deliver their subject to your child that promotes maximum student engagement (Live Classes,
recorded tutorials, weekly assignments etc…).
School will be open on Monday 11th January between 10am & 4pm, for students to collect books/learning material from their lockers if required.
For any student who requires a chromebook to access remote teaching &
learning, please contact Mr Lovett by email i.lovett@monaghancollegiateschool.ie
Students are asked to check their school emails and Google Classroom regularly
Minister for Education Norma Foley TD and Minister of State for Special Education and Inclusion have  announced that the school Christmas break will be extended by three days, with schools re-opening on Monday 11 January.
Minister Foley said: "It is a key objective of Government that our children and school staff can attend school safely. This has been achieved through the valiant efforts of all members of the school community, and the additional supports put in place. The Government has considered carefully the public health data analysis regarding schools, which is hugely reassuring and shows that schools continue to be safe places.
"The Christmas school break will be extended for three additional days to 11 January. This will allow every member of the school community to follow public health advice closely and minimise their contacts before children return to school.
"Children, young people and their parents and school communities have been extremely responsible to date in ensuring that they follow the public health guidelines. It is really important that everyone continues to do this, so that we can all support the safe operation of our schools.

Two groups of TY students have entered the Certified Irish Angus Schools Competition. Their promotional videos are posted below.
This exciting competition, ran by Certified Irish Angus with their partners ABP Ireland and Kepak Group, challenges students to rear five Irish Angus calves over 18 months while completing a research project. The initiative aims to promote the Certified Irish Angus brand while educating students about the care and attention required to produce quality beef for consumers.
Each group also benefits from the proceeds raised through the sale of the animals at the end of the competition. The overall winners also receive a bursary towards further education.
Group 1 (Stephen McCoy, Simon Weir, Adam Graham & David Wallace)
https://drive.google.com/file/d/18zbXZ2oqlehgbzySjYoHvwVW-QzoEhjI/view?usp=sharing
Group 2 (Samuel Donaldson, Harry Gray & Maksymilian Matyskiewicz)
https://drive.google.com/file/d/1u_C8eO8tXiXT0gEiXHAXTaOqqb2WHjOt/view?usp=sharing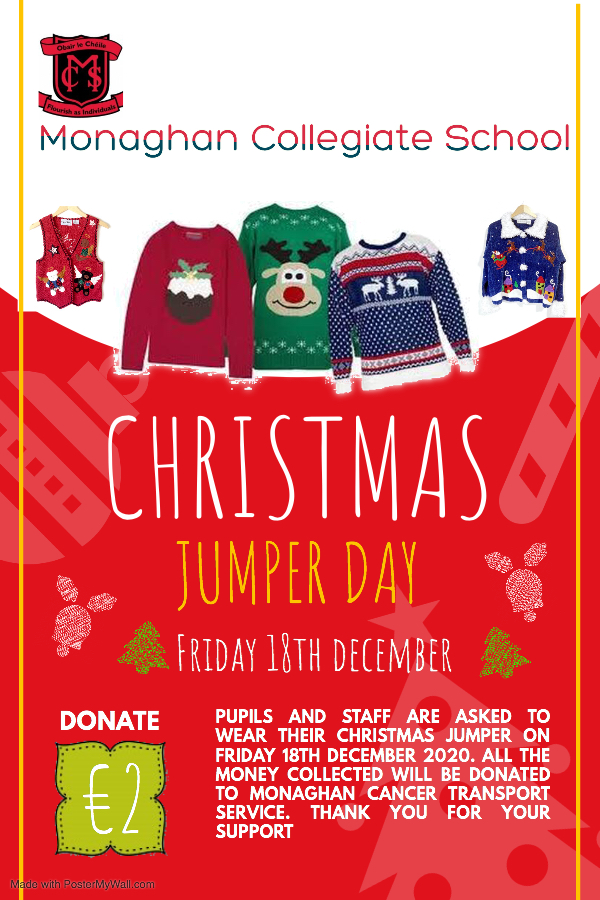 Staff & Students are asked to wear their Christmas Jumper on Friday 18th December to support Monaghan Cancer Transport Service. Suggested donation €2