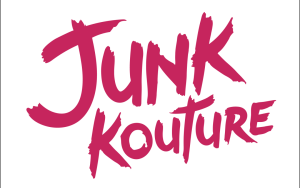 Junk Kouture is a national contest that encourages young designers in second level education to create striking fashion designs and works of wearable art from everyday junk that would normally find its way into the bin. It takes in elements of fashion, design, engineering and environmental sustainability and transforms them into a creative contest like no other. Junk Kouture has inspired and captivated thousands of students and teachers across the country.
Junk Kouture success for Monaghan Collegiate School.
February 2020
This year four entries from Monaghan Collegiate School have been selected to go through to the regional finals of the Junk Kouture recycled fashion competition 2020.   This competition is in its tenth year and has established itself as the leading fashion competition for teenagers throughout Ireland promoting recycling and creativity. 
Regional Final voting closes Friday 14th February 2020 at 6 pm. To register to vote see: app.junkkouture.com 
Transition years, Hannah Forde, Louisa Armstrong and Emma Brown worked together to create the very striking 'Sweet Precipitation'. The students experimented with broken umbrellas, old raincoats and brightly coloured sweet wrappers inspired by the idea that you can only experience the beauty of a rainbow after the rain.
Conor McGuirk, Clodagh McClean and Emily Dickson put a creative spin on a Mad Hatter creating a two piece outfit using playing cards, old fabrics, broken watches and odd socks. 'Scattered Hatter' demonstrates a range of sculpting techniques to add drama and character to their design.
Amy Lambe, Molly McDonald and Sarah Potts have kept their creative hands busy in the making of 'Through the Pages'. This magical dress is inspired by authors, Sarah J Maas, Holly Black and S.Jae-Jones and the concept that stories are continually being recycled and reshaped to sustain interest. They have used old novels, sweet wrappers and ivy to bring their idea to life.
The final group through to the regional finals are 'Causing a Commocean' by Rhiann Shields, Julie Gillanders and Sophie Blackburn. This ocean inspired dress is made from old worn wetsuits, shells, netting and crab claws. They have used a beautiful range of textures and soft shapes to capture the essence of the ocean.
All of the students have worked exceptionally hard and the school would like to congratulate them on their achievement in getting through to the Northern Regional Finals. These regionals take place in the Millennium Forum Theatre in Londonderry on Thursday 27th February. The four outfits will be showcased on the catwalk and the top 15 designs will progress to the Grand Final in April.