As a school community, we would like to thank Mr Ronnie Boyd, Mr Martin Killoran, Mrs Anita Rowntree, Mrs Wendy Sloan and Mrs Diane Wright-Kendrick for their massive contribution to the school over the years and wish them a long, happy and healthy retirement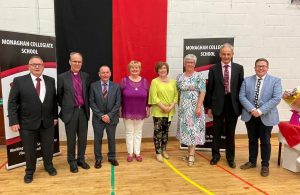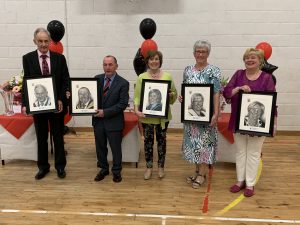 Parents,
Please find below the Board of Governors Educational Support Form
Please contact the school bursar Mrs Siobhan O'Connor via email – mcsadministrator@monaghancollegiateschool.ie if you require any further information.
We are delighted to launch our online International Students' Prospectus. Please click on the link below to access it.
If you have any questions or wish to speak to us please telephone 047-82060 or email mcsadministrator@monaghancollegiateschool.ie
We look forward to hearing from you!
Mr Reid (Principal) and Mr Killoran (Deputy Principal) would like to thank Monaghan Lions Club for their generous donation of laptops to the school. The laptops supplied from McArdle Computers Monaghan will be a great support to students during online teaching and learning. Thanks to Pascal at Monaghan Education Centre for coordinating.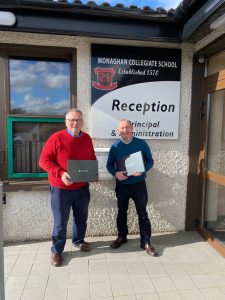 Minister for Education Norma Foley TD and Minister of State for Special Education and Inclusion have  announced that the school Christmas break will be extended by three days, with schools re-opening on Monday 11 January.
Minister Foley said: "It is a key objective of Government that our children and school staff can attend school safely. This has been achieved through the valiant efforts of all members of the school community, and the additional supports put in place. The Government has considered carefully the public health data analysis regarding schools, which is hugely reassuring and shows that schools continue to be safe places.
"The Christmas school break will be extended for three additional days to 11 January. This will allow every member of the school community to follow public health advice closely and minimise their contacts before children return to school.
"Children, young people and their parents and school communities have been extremely responsible to date in ensuring that they follow the public health guidelines. It is really important that everyone continues to do this, so that we can all support the safe operation of our schools.
Two groups of TY students have entered the Certified Irish Angus Schools Competition. Their promotional videos are posted below.
This exciting competition, ran by Certified Irish Angus with their partners ABP Ireland and Kepak Group, challenges students to rear five Irish Angus calves over 18 months while completing a research project. The initiative aims to promote the Certified Irish Angus brand while educating students about the care and attention required to produce quality beef for consumers.
Each group also benefits from the proceeds raised through the sale of the animals at the end of the competition. The overall winners also receive a bursary towards further education.
Group 1 (Stephen McCoy, Simon Weir, Adam Graham & David Wallace)
https://drive.google.com/file/d/18zbXZ2oqlehgbzySjYoHvwVW-QzoEhjI/view?usp=sharing
Group 2 (Samuel Donaldson, Harry Gray & Maksymilian Matyskiewicz)
https://drive.google.com/file/d/1u_C8eO8tXiXT0gEiXHAXTaOqqb2WHjOt/view?usp=sharing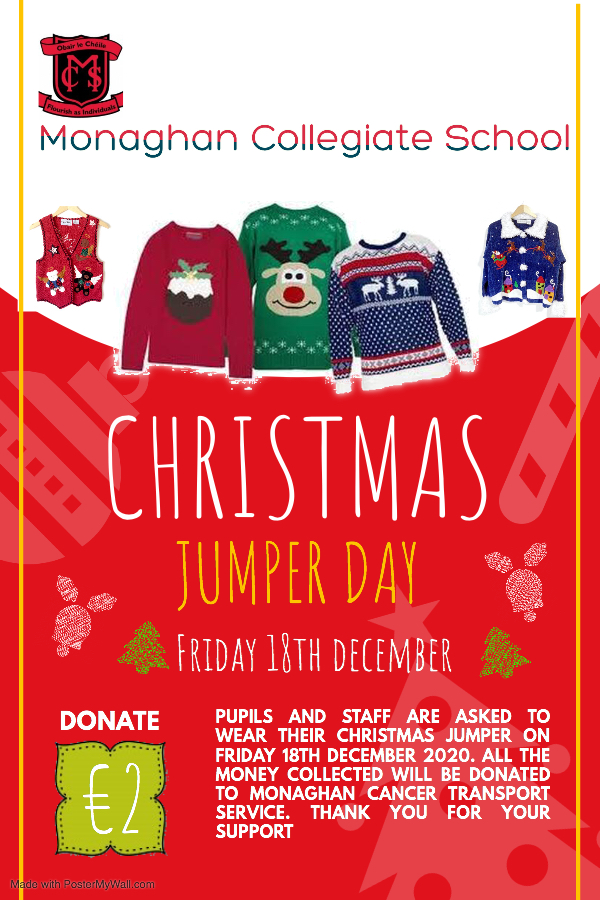 Staff & Students are asked to wear their Christmas Jumper on Friday 18th December to support Monaghan Cancer Transport Service. Suggested donation €2